Best Coffee Shops In Houston
Houston is a foodie's dream, but it's also a low-key caffeine-addict's paradise. There are interesting, distinctive coffee shops all around the city and new ones are constantly popping up. It can be hard to decide where to get a perfect cup of Joe, latte or cold brew. But no more. This is your guide to the best coffee shops in Houston.
Best Coffee Shops In Houston
1. The Cuppo Coffee & Tea
While it's only a little over a year old, The Cuppo Coffee & Tea has quickly become a favorite. Cuppo offers house classics like its Cuppo Joe (hot), Cuppo Jane (iced), Vietnamese iced coffee, matcha and turmeric lattes.
The Jersey Village shop also has a great ambiance. There's local art on the walls and an almost Parisian-style dining area. Cuppo is a nice place to hang out. And if you're looking for some sustenance, there are hearty toasts and smoothie bowls.
2. Morningstar
Outside of the stellar doughnuts and breakfast dishes, the caffeinated offerings at coffee whiz David Buehrer's Morningstar are as solid as you might expect. Order a cortado or latte, then dive into one of the neighborhood's best brunches.
3. A 2nd Cup
Imagine supporting the fight against human trafficking with every purchase of coffee as you can do at this dogooder coffee shopp. Imbibe in specialty lattes like the "Sweet Toff" (English toffee mocha), a "Chai Fritz" (double espresso chai) or "Red Baron" (raspberry mocha) along with breakfast and lunch options served until 5 p.m.
4. Antidote Coffee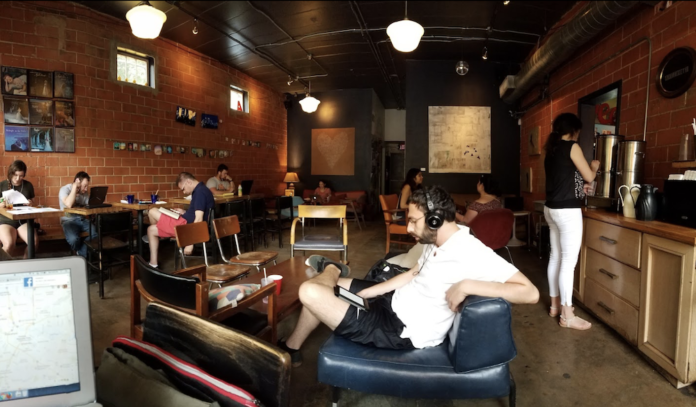 This low-key establishment features pastries, beer, wine and coffees in an unassuming environment with outdoor/indoor seating and free WiFi, ideal for studying and reading. Antidote focuses on drip coffees and fancy brews, including the coveted cajeta latte, made with goat's milk caramel and its signature the Antidote, a coffee with one shot of espresso for an extra boost.
5. Barbarossa Coffee
Known for all of the unique ways it brews its coffee, Barbarossa is a great place to experience elevated brews. Options include Turkish coffee, Chemex, Siphon, Aeropress and more. With the recent opening of a second location in Tomball to go with its Spring original, Barbarossa seems committed to giving the suburbs some worthy coffee.
6. Giant Leap Coffee – Uptown Park
One small step for man in the right direction is the trend of coffee shops working to support and enhance the neighborhoods they call home. Giant Leap is determined to do that with both of its locations in Uptown and East End.
The community-oriented shops serve up local Amaya coffee and pastries from Tlahuac.  The yet-to-open East End location will serve as a hub for local events — and Giant Leap owner and founder Logan Beck hopes to draw University of Houston students, too.
7. Morningstar
From Greenway Coffee and Blacksmith's David Buehrer and Ecky Prabanto, this breakfast, lunch, and coffee stop lures go-getters with its modern, relaxed interior and incredible Greenway grinds that keep the mind fresh. There's also an entire matcha beverage program and a rotating menu of eats colored by Southeast Asian and Southern touches. Snag a table next to an outlet and sip café sua da alongside an order of sambal-honey butter chicken biscuits, espressos with fritter accoutrements, or take turns dunking matcha-frosted and cinnamon-sugar "cop doughnuts" into black coffee so good you'll forget all about milk.
8. Blacksmith
Also located in Montrose, Blacksmith is just one part of the triple joy that is Blacksmith, The Hay Merchant and Underbelly. While each place offers something different, Bobby Heugel of Anvil Bar & Refuge connects all three with his investment. Take our word, all three are world-class establishments. Even though Blacksmith serves up excellent coffee, the food alone will entice you. Whether you're looking to enjoy delicious biscuits for breakfast or need to satisfy your daily coffee fix, be sure to stop by Blacksmith.
9. Boomtown Coffee
There are a few things to take into consideration when looking for the perfect coffee house: ambiance, location, Wi-Fi, menu, staff, and froth art. We could go on, but Boomtown covers it all. Located off the infamous 19th street in The Heights, Boomtown Coffee has ample seating and the Wi-Fi connection is 'on fleek.' If you're doing some shopping in the area and need a great place to recharge, stop by Boomtown Coffee and enjoy an iced coffee on the patio overlooking the street. This is one of the best coffee shops in Houston you must try during your trip.
Tags :
Coffee Shops
drinks
Houston