For all its modest size, Tel Aviv, the commercial and tech capital of Israel, still punches above its cultural weight. Distinctive neighborhoods including White City, where you'll find the largest inventory of international-style buildings in the world, along with an extensive beachfront lend an engaging and easygoing atmosphere. This vitality is matched by a panoply of stylish hotels encompassing modest hostels and innovative restoration. Here are the best hotels in Tel Aviv you can consider.
Best Hotels In Tel Aviv
Carlton Hotel Tel Aviv
One of the most instantly recognisable buildings in Tel Aviv, the Carlton Hotel towers over the marina and seafront. This glamorous Oceanside location treats guests to private beach access and a wide range of luxurious touches that are sure to impress. There are 258 rooms spread across fifteen floors and the best picks can be found on the upper floors, where there are huge suites to choose from complete with huge ocean facing balconies.
The Jaffa Hotel
et in a former hospital and monastery, the Jaffa Hotel is steeped in rich history that can be seen in the dramatic architecture. This grand hotel boasts modern interiors that feature plenty of artistic touches, while the complex features a collection of elegant restaurants, cool cocktail bars and a tranquil pool area for guests to make use of. Luxury lovers can choose from the original rooms or the recently renovated offerings with their more modern décor, although all options are sure to impress. The emphasis is on relaxation and guests are treated to backgammon boards in their rooms and plenty of space.
The Setai Tel Aviv
History lovers are sure to be in their element in this grand establishment, which boasts more than nine hundred years of history. The Setai Tel Aviv started life as a notorious Ottoman prison and a stone-clad fortress and an Ottoman prison before being transformed into a luxurious five star urban retreat. This establishment is famous for its enticing rooftop swimming pool where guests can enjoy stunning views of the Mediterranean while they splash around. There are 120 rooms and suites to choose from and the huge bathrooms are the real highlight as they feature LED partitions and impressive showers.
Hotel Nordoy
Standing in the heart of the city and a Tel Aviv landmark since it was founded in 1925, the Nordoy is the oldest continuously operating hotel in the city. Distinguished by a classical magenta facade crowned by a dark grey dome, it's among the best heritage hotels in Tel Aviv with large, tastefully modernised rooms hung with monochrome prints and dark parquet floors. A ground-floor cafe takes care of breakfast and evening cocktails but the winning space is the rooftop lounge, a terrace softened with potted plants and soft jazz.
Brown TLV Urban Hotel
Straddling the urban crossroads of north-central Tel Aviv (trendy Rothschild Boulevard on one side; earthier neighbourhoods on the other), Brown has an upbeat vibe fed by its proximity to the buzzing gallery and cafe scene of Neve Tzedek and the beach beyond. Offsetting the relative blandness of this former office block, interiors blend glam-tinged 1970s Americana with retro decor sourced from boutiques and flea markets – expect plentiful shades of brown, rhomboid bookshelves and moody lighting. The plant-filled rooftop terrace bar naturally features outside showers and a bathtub.
The Norman Hotel
It's easy to understand why American travel magazine Jetsetter voted The Norman the best boutique hotel in the world soon after it opened in 2014. Set in two restored 1920s buildings overlooking the charming King Albert Square on Nachmani Street, it has been leading the pack when it comes to luxury hotels in Tel Aviv. In addition to 50 rooms and suites, it houses two of Tel Aviv's favourite fine-dining restaurants: The Norman and the Tel Aviv branch of London's Dinings. Besides fine dining, guests can enjoy delicious cocktails at the upscale Library Bar.
Hotel Montefiore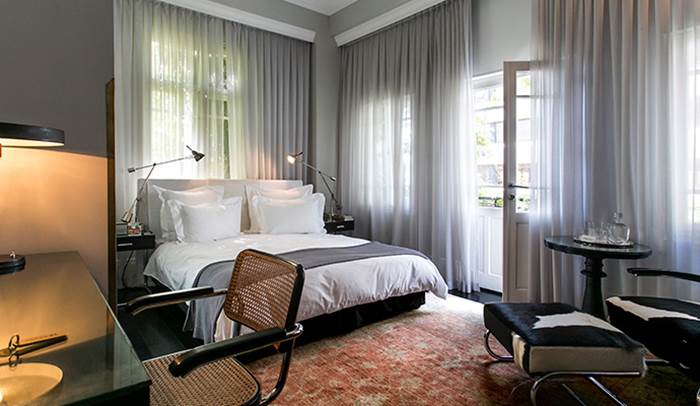 Set in a restored building put up in 1922, just off Rothschild Boulevard, this 12-room luxury hotel in the heart of Tel Aviv is perfectly positioned for anyone wishing to explore the vibrant nightlife and culinary scene. The flagship restaurant in the lobby is highly recommended and the bar serves a curated menu of classic and original cocktails.
The Rothschild Hotel
Located in an iconic building on trendy Rothschild Boulevard, The Rothschild Hotel – Tel Aviv's Finest offers modern rooms with espresso machine and free Wi-Fi. The famous Shenkin shopping street is a 2-minute walk away.Luxury rooms at the Rothschild all have contemporary furnishings and an eclectic style. They include a LED TV, a cordless phone, a minibar, and air-conditioning. Some rooms include a private balcony or terrace.The entire hotel was built to reduce the impact on the environment. This finely preserved building is definitely one of Tel Aviv's most famous, and most of the furniture has been designed and handmade by local craftsmen.
Tags :
hotels
Tel Aviv
travel