Logitech is perhaps best-known for making computer mice and keyboards, but they also make some very good gaming headsets. Also, they own Astro Gaming, a company popular for its more console-oriented gaming headphones. Logitech's gaming headphones might be geared mostly towards PC gamers, but their wireless headsets are also PS4-compatible, and their wired models tend to work with anything they can plug into. The brand also makes the best software applications we've seen, providing tons of customization options with their most premium models. Their models tend to be quite bulky and heavy, though, and the gamer-centric look isn't for everyone. However, the newer G Pro lineup presents a sleeker, more versatile design. Here are the best Logitech headphones.
Best Logitech Headphones
1. Logitech G Pro X Gaming Headset
The best Logitech gaming headset with a wired connection that we've tested is the Logitech G Pro X Gaming Headset. These good wired gaming headphones have a much more casual and retro design than most other Logitech gaming headsets, and their detachable boom microphone makes them great for day-to-day use as well. Their microphone performance is very good, and your voice sounds full-bodied, clear, and easy to hear in loud situations. Their wired connection means you can easily plug them into the controller of most modern consoles, and their out-of-the-box sound profile is fairly well-balanced. If you prefer your headphones sound a specific way, you can also adjust their sound via a graphic EQ within Logitech's G HUB software.
2. Logitech G432 Gaming Headset
The Logitech G432 Gaming Headset is the best Logitech headset in the budget category that we've tested. These wired gaming headphones use a similarly comfortable earcup design as other Logitech models. Thanks to their wired design, they're audio and microphone compatible with PC, PS4, and Xbox One. Although they have some problems with bass and treble delivery, their out-of-the-box sound profile is still quite well-balanced, and if you prefer a different sound, you can tweak them using the Logitech G HUB's graphic EQ or presets. They also have an excellently-performing boom microphone, so your voice is easily understandable and clear, even in noisy environments.
3. Logitech G633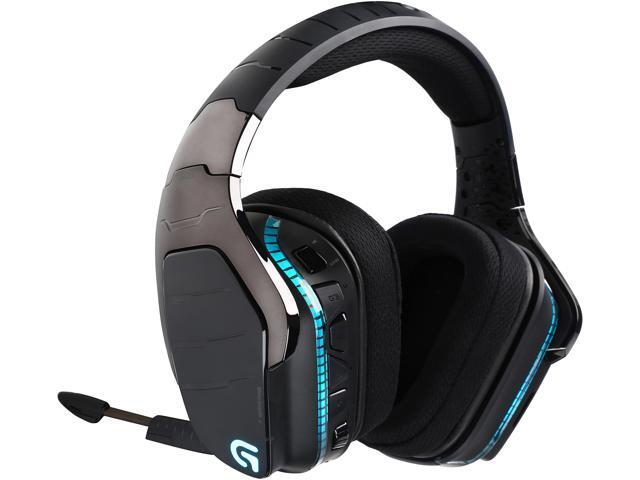 The Logitech G633 Artemis Spectrum Headset is a quality product jam packed with some pretty incredible features. It has a sleek black design that supports oversized ear cups, which rotate at a 90 degree angle for easy use and storage. It also has a padded headband that in combination with the comfort of the large ear cups allows gamers to game for extended periods of time.
With this headset you get the best audio performance featuring 7.1 Dolby and DTS surround sound along with multiple source audio mixing so that you do not have to interrupt your gaming session to play a song or answer a call. There is also a noise-canceling microphone with an LED light indicator so you can tell if the microphone is muted or not.
4. Logitech G430
Logitech's G430 7.1 DTS Gaming Headphones are comparable to the company's more expensive G35 model but at a fraction of its cost. The G430 features black leather with a stylish blue sports performance cloth that is exceptionally comfortable. The soft fabric is gentle and ideal for long gaming sessions. It's also lighter than most competing high-performance headsets due to Logitech putting the bulky software into the volume control versus the headset itself.
5. Logitech G533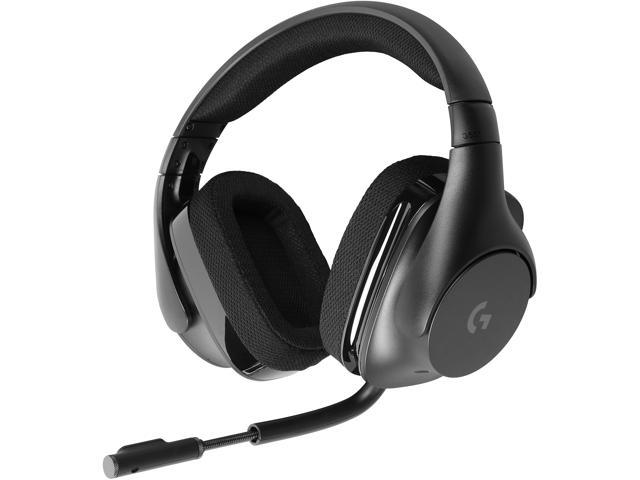 The Logitech G533 Wireless Gaming Headset is attractive, affordable, and arguably the best headset in Logitech's lineup. This Logitech headset is primarily designed for PC Gaming, and it has an impressive set of features.
It's wireless and has a proprietary USB receiver with a 15-meter range of connectivity strength. It also is rechargeable with 15-hour battery life per charge so that you can enjoy non-stop pro gaming sessions.
It is a midrange priced headset that delivers an advanced audio experience that is typically found in high-end headphones. You can also create custom sound profiles with the Logitech Gaming Software.
6. Logitech H800 Bluetooth Wireless Headset
Logitech H800 headset is made to provide great comfort, great sound, and flexibility of use between your PC and mobile devices.
It comes with an in-built rechargeable battery that can take you up to 6 hours on a full charge and charges through a USB cable. On-headphone controls allow you to adjust the volume, receive calls, mute and replay songs with ease.
Tags :
headphones
Logitech
technology