Best Restaurants In Frankfurt
Frankfurt may have given its name to a simple sausage, but today its restaurants bring international cuisine to Germany's capital of commerce. Serving the international elite on a daily basis, the restaurants listed here are used to those who demand the very best in culinary skill and quality service. So, after a stressful day of business, sit back, relax and allow these top class establishments to take you on a culinary expedition. Here are the best restaurants in Frankfurt.
Best Restaurants In Frankfurt
Chairs
In this restaurant by adventurous chef Dennis Aukili, guests don't only sit on design classics from the 1960s through to the 1980s – they can also buy them. And when it comes to the food, Chairs offers playful yet ambitious haute cuisine at surprisingly affordable prices. Think refined dishes like salt baked young onion with cranberries and mornay sauce, and roasted beetroot with blood sausage and sour berries. Our favourite is the classic (and much less refined) Viennese schnitzel with potato salad. Wines are mainly young and organic.
Villa Merton
Located in Diplomatenviertel, one of Frankfurt's most elegant quarters, the beautiful Villa Merton offers world class food in elegant surroundings. Since 2003 Villa Merton has continuously been awarded a Michelin star, thanks to Chef de Cuisine Matthias Schmidt's daring menu that renounces traditional ingredients such as olive oil and citrus fruits in favor of unique products like Japanese roses, beechnut and oil of wheatgrass. The main dining room opens on to a tree-lined terrace, which offers natural shade and a beautiful back drop while dining alfresco, and a private room is available on the first floor for those seeking further exclusivity.
Atschel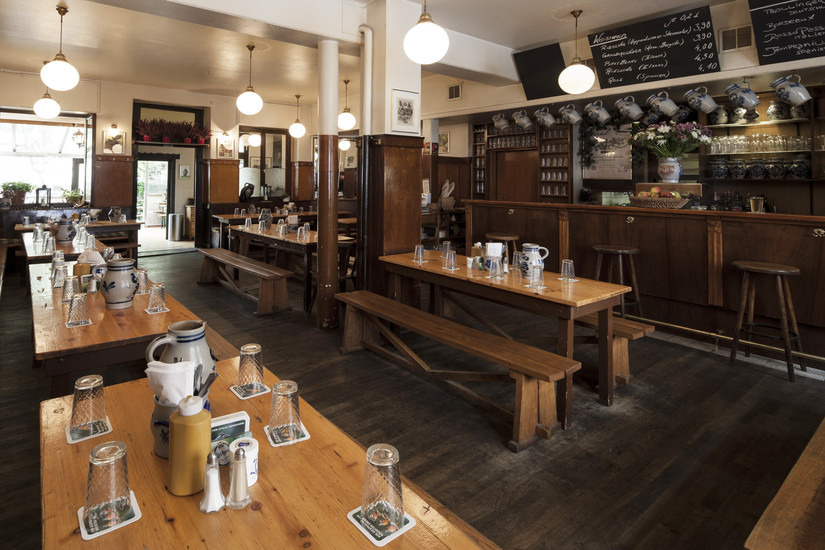 You'll receive a hearty welcome befitting a regular at this old-school establishment. Founded in 1849, today's Atschel seats patrons at communal wooden tables, beer hall-style. The walls are adorned with framed vintage drawings of apples, and art nouveau ball lamps emit a warm light for a homey feel. Feast on local delicacies like grilled pork knuckle with sauerkraut and bread or the region's speciality – cold green sauce, or Grüne Soße, made with seven local herbs, yoghurt and sour cream, and served with boiled eggs and potatoes. Don't leave without tasting Frankfurt's quintessential drink, refreshing Apfelwein (apple wine), which is more sour than sweet, but be aware that it's frowned upon to ask for a shot of sweet lemonade in it (Süßgespritzter). Traditional Bembel pottery hangs above the bar, and specials are written in German on chalkboards along the walls.
Adolf Wagner Tavern
This rustic, wood-paneled tavern in Sachsenhausen has been owned by the Wagner family since 1931. As you sit shoulder-to-shoulder with the locals, you'll be treated to traditional, local dishes like handkäse mit musik (fragarant cheese) or schnitzel with Frankfurter grüne sosse (Frankfurt green sauce).
And don't forget to order a bembel (pitcher) of crisp, slightly sour, ebbelwoi (apfelwein in the Frankfurt dialect)—Adolf Wagner is considered to serve up the best in the city.
Ariston
While Ariston's décor is decidedly upscale, their expertly prepared Greek menu is also accessible to more modest budgets. Boasting fresh ingredients and an impressive wine list, Ariston is a haven of relaxation that will make you feel as if you're on a seaside holiday. The staff demonstrates an abundance of typical Greek hospitality;they're happy to accommodate special dietary needs, and will ensure that you have everything you need to forget your worries and enjoy your food.
Holbein's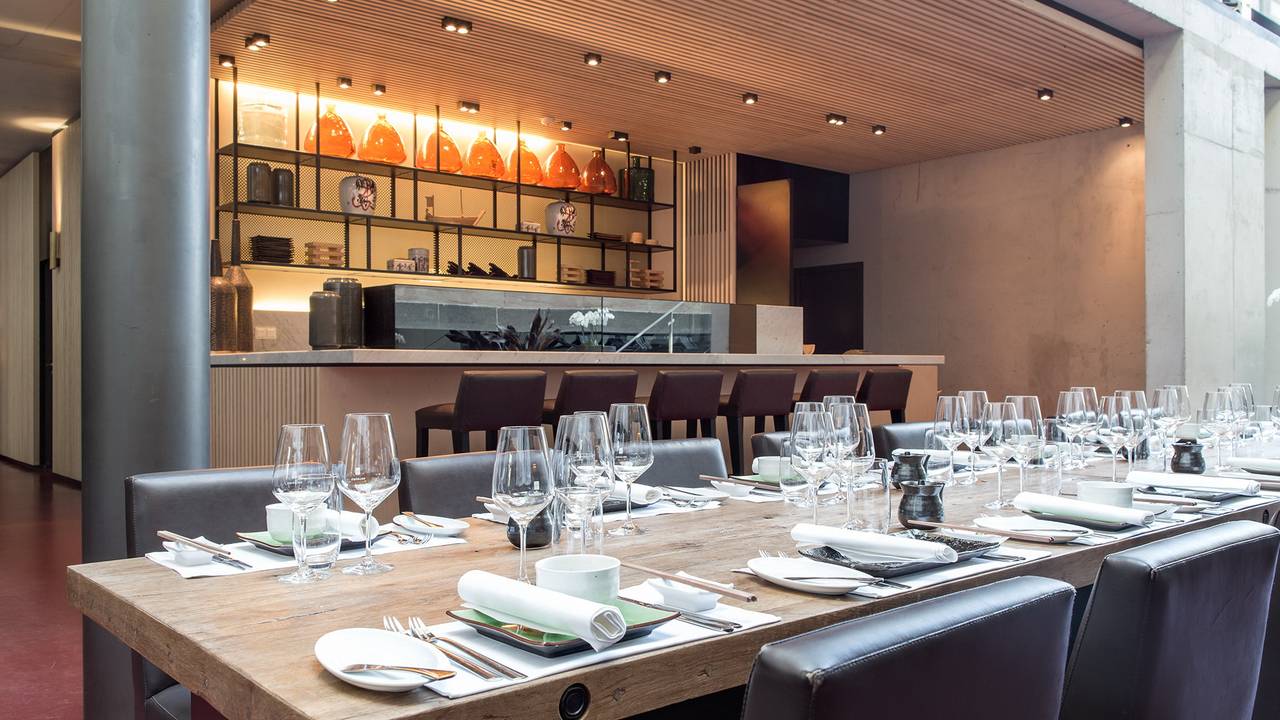 Part of the Stadelsches Kunstinstitut art museum which is home to one of the most important collections of artworks in Germany, Holbein's is an ideal destination for an elaborate lunch or dinner after a stroll around the galleries. The floor-to-ceiling windows and impressive architecture lend the restaurant a sophisticated feel, which is only enhanced by the exquisitely presented dishes. Heavily influenced by Asian cuisines, the menu consists of a variety of tasty Thai curries, aromatic salmon dishes and delicate sushi starters. On warm days the outdoor veranda is a beautiful spot on the river to enjoy a bottle of fine wine or a cocktail as the sun goes down.
Zarges
Zarges is a stylish and exuberant restaurant founded with three principles in mind: food, hospitality and atmosphere. The atmosphere is achieved by the Jacques Garcia-designed interior; tasteful fabrics, comfy couches, oriental rugs and lamps inspired by the Baroque era, create a trendy yet warm and welcoming atmosphere. The refined French-Mediterranean menu is beautifully prepared and served at both lunch and dinner sittings, but don't miss the opportunity to gorge on freshly-baked pastries during breakfast or brunch. For those in search of total exclusivity, Zarges has private saloons available on request that seat between four and 50 people.
Tags :
foods
Frankfurt
Restaurants