Best Restaurants In Vancouver
Canada's epic West Coast city of Vancouver is shaking things up for restaurant-goers with new cooking concepts, adventurous menus, and exciting flavors. We check out the best restaurants in Vancouver,  British Columbia's down-to-earth metropolis; from the fine-dining big guns to the enthusiastic newbies.
Best Restaurants In Vancouver
1.

 Au Comptoir
Take a trip to an excellent Parisian bistro by way of the city's beachside Kitsilano neighborhood, where up-and-comer chef Dan McGee and team are whipping up French standards with B.C.'s finest produce. The stunning custom-made bar comes from France, and even the serving staff are mostly French, although with the happy addition of Canadian manners. With buttery croissants in the morning, gooey croque-monsieur at lunch, and juicy entrecôte-frites with a mouthwatering crisp char at dinner, anytime is a good time for Au Comptoir.
2.

 Maenam
One of the city's most exceptional (and hardest-working) chefs, Angus An has three other spots dotted across the city, including the noodle bliss of Fat Mao and Freebird Chicken Shack, which excels in Asian-style rotisserie. But if you only have time for one, go to Maenam to experience An's deft flavor-balancing act of sweet, aromatic, citrus, heat, and spice, which creates plate-lickingly great Thai dishes with a B.C. twist. With terrific value, attentive service, and a killer cocktail and wine list, the restaurant is open for lunch and dinner — and is even good for takeaway to nearby Kitsilano beach.
3. Breakfast Table
Vancouverites love brunching and there are dozens of popular restaurants to indulge in what many regard as the best meal of the day. Vying for top spot is this South Granville eatery where exceptionally friendly service combines with a comprehensive menu of classic as well as adventurous options––including Chicken Karaage Hash, our favorite hangover cure.
4. Chambar
Chambar is a Belgian themed, fine dining establishment free of the pretentious attitude symptomatic of so many upscale restaurants. Chambar is housed in a historic, late nineteenth/early twentieth century structure boasting rustic pine and red birch features which make for a cosy dining experience. Chambar is a leader in sustainability, and hopes to become Vancouver's first carbon neutral restaurant.
5. L'Abattoir
L'Abattoir is setin a nineteenth century structure built on the location of Vancouver's first jail. The refurbished brick and beam building combines unique mosaic tile work and natural wood with the exposed brick of the original architecture. The resulting ambience is informal yet classy, creating the ideal space in which to enjoy a memorable meal.
6. Kingyo Izakaya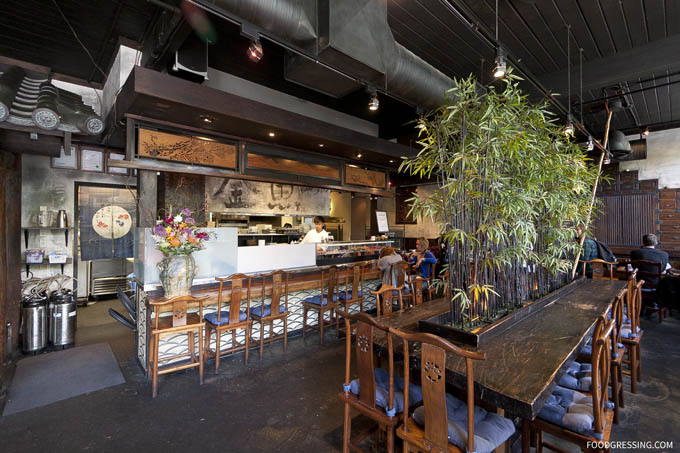 Kingyo Izakaya is perfect for a quick lunch after checking out Stanley Park and English Bay, but arrive early to bag one of the deluxe bento boxes (only 10 made each day) and eat your way through the menu's high points. At nighttime, enjoy the exuberant atmosphere and over-order from the far-too-tempting, daily-changing fresh menu. Seafood favorites such as tuna tataki shine alongside sizzling stone-grilled beef tongue and crisp chicken karaage served with three kinds of salt.
7. The Chickpea
Vancouver is stuffed with excellent vegan and vegetarian restaurants but one of our regular go-tos is this warm and welcoming Main Street joint. Fusing vegan ingredients, homestyle preparation, and Middle Eastern influences, standout dishes include roasted cauliflower, crunchy-coated falafel, and those irresistible chunky chickpea fries.
8. Golden Paramount Seafood Restaurant
Take a 20-minute trip on the Skytrain from downtown to the neighboring city of Richmond, which Eater's former roving critic, Bill Addison, called "one of the cultural marvels of North America" for having some of the finest Asian food in the world. At this award-winning favorite, the dim sum is handmade by chef-owner May Chau, who focuses on Hong Kong classics: steamed pork and crab dumplings, pan-fried pork buns, and deep-fried wontons — all must-orders.
9. Hawksworth
Hawksworth is one of the best restaurants in Vancouver, worthy of your best duds and a celebration. Sophisticated decor and impeccable service set the tone for contemporary Canadian cuisine marked by Asian influences. Mains like Korean glazed ling cod with orange lassi or smoked cod ravioli reflect chef David Hawksworth's skill. Go with the tasting menu to experience the full range of culinary offerings.
10. St. Lawrence
Unpretentious French-Canadian cuisine is on the menu at this small spot in Japantown. Rustic Québecois decor sets the stage for simple yet satisfying country cooking prepared with French techniques. Indulge in salmon and scallop pie, trout Amandine, or grilled steak with bone marrow and frites. Pair with a French wine, then finish with a Calvados and rice pudding with salted caramel.
Tags :
foods
Restaurants
Vancouver