Best Things To Do In Frankfurt
Germany's big financial centre is a city of many sides. The central business district, Bankenviertel, captures your attention right away and has all ten of the tallest skyscrapers in the country. Opposite that sci-fi cityscape is the Museumsufer, an entire neighbourhood of museums that could keep you fascinated and entertained for days. Frankfurt also has a city centre bursting with sights like the church that held Germany's first democratic parliament, and the childhood home of Johann Wolfgang von Goethe. Under the gaze of those skyscrapers are fun-loving neighbourhoods like Sachsenhausen, where taverns serve traditional Apfelwein and there's always something going on at night. Let's explore the best things to do in Frankfurt.
Best Things To Do In Frankfurt
1. Römerberg: Frankfurt's Old Town Center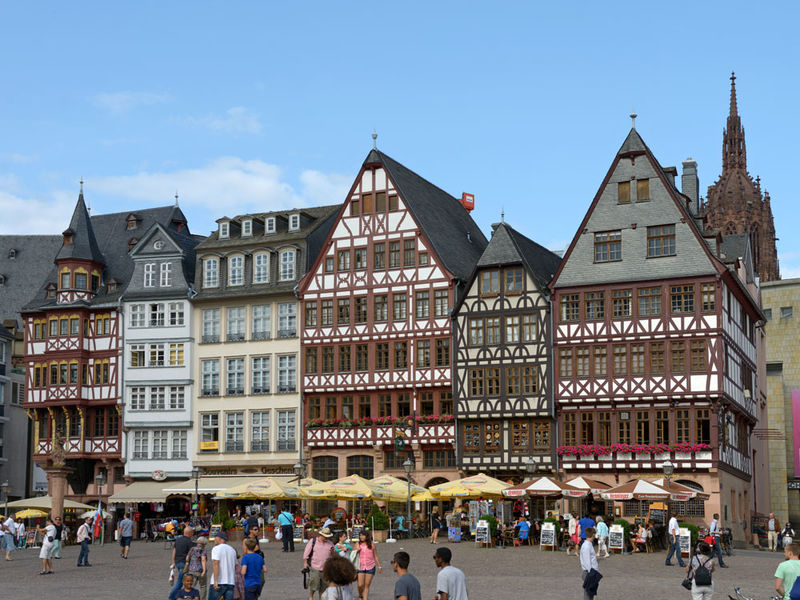 In the heart of Frankfurt's Old Town (Altstadt), the Römerberg is an irregularly shaped square with the Justice Fountain (Gerechtigkeitsbrunnen) at its center. Not only is it Frankfurt's most picturesque public square, it's the city's busiest pedestrian zone and home to numerous tourist attractions and fun things to do, including Christmas markets and other events.
Points of interest here include its many open-fronted shops, once common throughout the old town, and the Römer, a cluster of 11 buildings that together made up the medieval-era Old Town Hall (Altes Rathaus), faithfully reconstructed in 1954 from original 15th- to 18th-century floorplans. Of special note is the elegant Imperial Hall (Kaisersaal), once the scene of splendid banquets.
2. Museumsufer
Grouped together on both sides of the River Main is a cluster of 12 museums in an area known as the Museumsufer (Museum Embankment). Most are on the left bank (south side). There are museums for film, art, architecture, communication and ethnography, to name a handful, and we'll deal with many of them in more detail later.
The Museumsufer is a recent idea, having been developed in the 1980s and 1990s.
Some museums moved into patrician houses while others had eye-catching venues built for them by eminent architects like O.M. Ungers and Richard Meier.
On the last weekend of August the Museumsiferfest happens on the embankment, bringing later opening hours, multi-passes, outdoor music and dance performances, and a two-day dragon boat regatta on the Main.
3. Städel Museum
One of Germany's top cultural attractions, the Städel Museum has recently been named German Museum of the Year following an extension for contemporary art in 2012. The museum was founded in 1815 when the banker Johann Friedrich Städel donated an invaluable collection of old masters to the city.
The current museum building was designed in a palatial Gründerzeit style in 1878 and within there's a marvellous array of painting from the 1300s to the present.
Think Botticelli, Rembrandt, Hieronymus Bosch, Vermeer and van Eyck.
For later movements like Romanticism, Impressionism and Expressionism you'll find paintings by Caspar David Friedrich, Degas and Kirchner.
4. The Palm Garden
Located on Bockenheimer Landstrasse, the beautiful 54-acre Palm Garden (Palmengarten), the largest botanic garden in Germany (and one of three in Frankfurt), was an instant hit with the public upon its opening in 1871. The attraction lured some of the top performers of the time from around the world, including Buffalo Bill, who visited with his Wild West show in 1890.
Highlights of a visit today are the lovely outdoor botanical exhibits laid out according to their geographical location, along with a number of greenhouses containing subtropical and tropical plant species. The gardens also offer boating, a children's playground, and picnic spots, and guided tours are available.
5. St. Bartholomew's Cathedral
St Bartholomew's Cathedral is a Gothic-style stone church that was built between the 13th and 15th centuries. It's home to a number of impressive relics and sculptures, including St. Bartholomew's skullcap, a 16th century statue of the Crucifixion by Hans Backoffen, and a gravestone of King Günther von Schwarzburg. The cathedral is also known for its 95-metre-tall tower. You can climb over 300 steps to the top to see Frankfurt from an impressive height. Note that to enter the tower you are charged a fee of around €3 and it's only open between April and October.
6. Berger Straße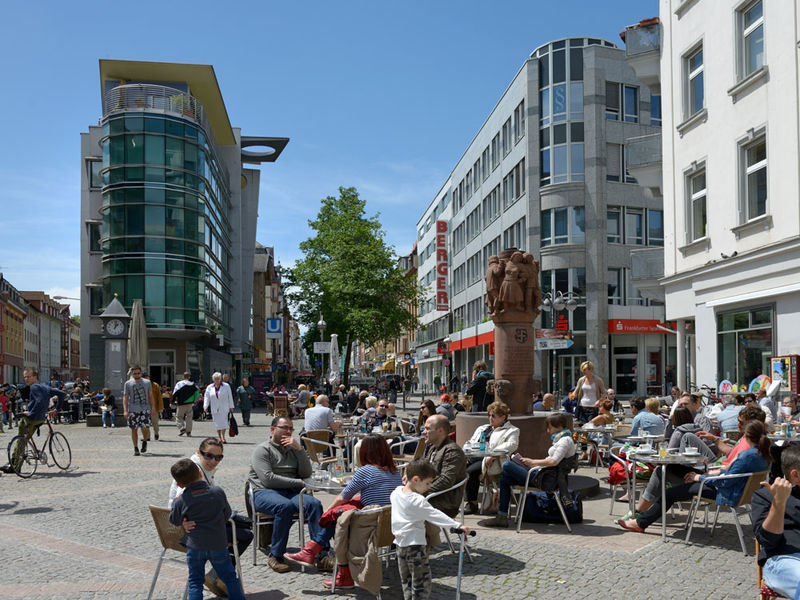 Berger Street (Berger Straße) stretches for 3 km, from Bethmannpark out to Bornheim. Lower Berger Street – around Merianplatz metro station – is one of Frankfurt's best spots for independent boutique shopping. You'll find unique homeware, factory outlet stores, 2nd-hand shops, and an authentic local vibe.
There are plenty of bars, restaurant and coffee shops running the entire length of Berger Straße, but if you're looking for a night out, head the area around Höhenstraße metro station. On Saturdays, don't miss the Farmers' Market next to Bornheim Mitte station. This is also where you'll find larger department stores.
Tags :
Frankfurt
Things To Do
travel