Best Things To Do In Siem Reap, Cambodia
The best things to do in Siem Reap shows that there's more to this quaint town besides visiting the iconic Angkor Wat temple ruins. As Cambodia's unofficial tourism capital, Siem Reap boasts hundreds of natural and manmade attractions such as breathtaking temples, well-preserved colonial buildings, unique museums, cultural theme parks, expansive lakes and verdant mountains.
History buffs will delight in the many well-preserved stone carvings found at Buddhist and Hindu temples while nature lovers can enjoy a wide range of activities, such as hiking, bird-watching, picnicking and swimming. For experiencing the local lifestyle, there's a wide range of cultural dances and traditional performances within central Siem Reap.
Best Things To Do In Siem Reap
1. Angkor Archaeological Park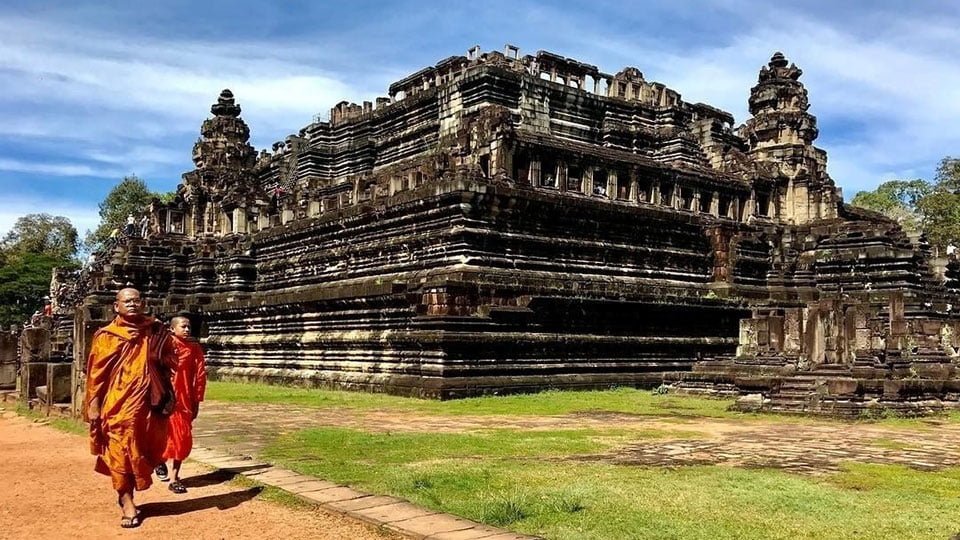 Angkor Archaeological Park is where you can find Siem Reap's iconic Angkor Wat as well as 50 Hindu and Buddhist temple sites that were constructed between the 9th and 12th centuries. Representing the pinnacle of ancient Khmer architecture, art and civilization, this park was once the largest pre-industrial city in the world and was listed as a UNESCO World Heritage site in 1992.
Another prominent sight here is the Terrace of the Elephants, a striking 300-metre-long wall decorated with fine sculptures of elephants, garudas, a 5-headed horse, Khmer dancers and warriors. Visitors looking to explore the entirety of Angkor Archaeological Park are encouraged to purchase the multi-day passes as there are so many sightseeing opportunities here.
2. Angkor Silk Farm
Artisans d'Angkor Silk Farm was established by Artisans d'Angkor, a charitable business in Siem Reap, which aims for the revival and perpetuation of traditional sericulture in Cambodia. They provide training in silk production and use the silk created in their products.
A very interesting and informative guided tour of the farm includes all aspects of silk farming and production, from the raising of the silkworms to dying the silk to weaving the final product. Their free shuttle bus usually leaves at 8.30am and 1.30pm from Artisans d'Angkor in Siem Reap. The entire tour takes about 2 hours.
3. Apsaras dance and dinner shows in Siem Reap
Several restaurants and hotels in Siem Reap present Apsara dance shows, and Apsara dance dinner shows are included in many tours. Shows durations average around 2 hours.
Most shows include the 4 genres of traditional Khmer dance: Apsara Dance, Masked Dance, Shadow Theatre, and Folk Dance. These are abbreviated dances for tourists, and unfortunately there's usually little or no explanation as to the origin and meaning of the dances as they are performed. They are still interesting and worthwhile seeing, though. Among the few venues showing these dances are Apsara Terrace at Raffles Grand Hotel d'Angkor, Apsara Theatre & Restaurant at the Angkor Village Hotel in Wat Bo Village, and Koulen Restaurant on Sivutha Street.
4. Banteay Samre
Banteay Samre is a large, relatively low-rise temple built in the distinctive Angkor Wat-style of construction and art. It was built around the same time as Angkor Wat, and the influence can be seen in the towers and railings which strongly resemble those of its more famous cousin.
The temple also resembles the ancient Khmer temple of Phimai in Thailand. Most of the bas-relief carvings are in very good condition. The temple has been extensively restored by archaeologists by completely taking it apart and then reconstructing it.
5. Baray Lakes and The Mebon Temples
The huge Baray lakes are among the most remarkable aspects of Angkor. They are immense ancient rectangular artificial reservoirs, with the 2 largest to the east and west of Angkor Thom. The East Baray is 14 sq km wide, while the West Baray is 16 sq km.
It had been assumed they were used for agriculture irrigation, but some scholars now say that the main purpose of the Barays was religious and ceremonial. There is a stone temple called a Mebon on an island in the middle of each lake. No matter what their original purpose was, they are truly amazing feats of engineering.
6. Kbal Spean River
Kbal Spean is the famous river of a 1,000 lingas at Phnom Kulen. These lingas (phallic symbols) were evidently carved into the bedrock of the river so they could 'fertilise' the waters flowing to the fields of Angkor.
You can also find carvings of Buddha and Buddhist images in the rocks that were carved at a later date than the lingas. It's a fairly easy 45-minute walk uphill though the woods to get to the river.
Tags :
Best Things To Do
Cambodia
Siem Reap
travel