Tel Aviv, with its golden beaches and lively cosmopolitan outlook is Israel's most modern metropolis. Most visitors land here to soak up the sun, shop-until-they-drop in cutesy boutiques, and enjoy some serious foodie action at the city's renowned café and restaurant scene. The beach may be the major tourist attraction, but Tel Aviv has more points of interest than its famous strip of sand. Nicknamed "The White City," the town was awarded UNESCO World Heritage Status in 2003 in recognition of its fine examples of Bauhaus architecture (an early 20th-century Modernist style of building). The city itself is full of things to do, with plenty of small museums and funky art galleries that provide excellent sightseeing opportunities. Jaffa, just to the south, is a gorgeously well-preserved old city with a port that has been in use for thousands of years and is now revitalized with restaurants and cafés. Here are the best things to do in Tel Aviv, Israel.
Best Things To Do In Tel Aviv, Israel
1. Tel Aviv Beaches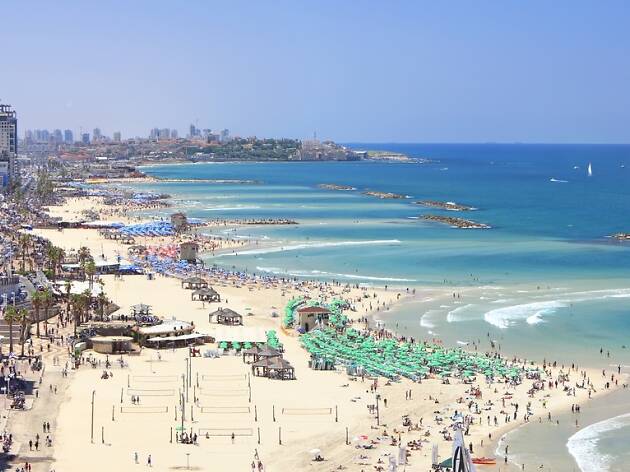 Tel Aviv is defined by its coastal position. The beaches attract tourists and locals alike. On weekends, Tel Aviv's strips of sand are crowded with sun-worshippers, posers and people just chilling out. The most popular sandy stretches are centrally-located Gordon Beach, Frishman Beach, and Banana Beach where you'll find excellent facilities such as fresh-water showers, sun loungers and sunshades for rent. The Tayelet (paved boardwalk) that runs along the beach between central Tel Aviv and Jaffa is prime evening promenading territory and is lined with plenty of cafés and restaurants allowing an easy entire day at the beach.
2. Yemenite Quarter
One of Tel Aviv's most atmospheric neighbourhoods, the Yemenite Quarter is full of meandering alleyways lined by old-style architecture that has withstood the area's gentrification. It was first settled by Yemenite Jews in the early 20th century, and the original feel of the closely-packed streets is still very much alive. The neighborhood backs onto Carmel Market – busy, colorful, full of fresh produce, and Tel Aviv's answer to Jerusalem's famous Mahane Yehuda Market. If you're hungry in Tel Aviv and want a cheap meal, this is the place to head.
3. Dizengoff Circle & Surrounds
The hub of Tel Aviv is this central plaza, laid out on two levels with a raised area for pedestrians above the carriageway and topped by the peculiar modern-art Fire and Water Fountain, designed by Israeli artist Yaacov Agam. The plaza and the street running off it are named after Meir Dizengoff, Tel Aviv's first mayor after the city separated from Jaffa. From the circle, Dizengoff Street runs southeast to Habima Square, Tel Aviv's cultural center and home to the Habima Theater, built in 1935. This is also where you'll find the excellent Helena Rubinstein Pavilion of Contemporary Art, which hosts a program of temporary art exhibits.
4. Tel Aviv Port
A hub of restaurants, shops and other attractions, the port is a hotspot for young revelers at night and great for spending an afternoon shopping and sea gazing. Check out Yahaloma near the farmers' market inside the port for some great local cuisine.
5. Park HaYarkon
New York has Central Park, London has Hyde Park, and Tel Aviv has it's very own Hayarkon Park. The popular green lung (also known as Ganei Yehoshua Park) is nestled in the north of the city with the Yarkon River running through it. Swathes of joggers, cyclists, dog walkers and young mothers taking a stroll, pack the park every day, making it come alive with its own unique personality. Pitch a spot on the grass and spend the day basking in the sun while watching the beautiful people of Tel Aviv go by – something we definitely recommend.
6. Suzanne Dellal Center
The Suzanne Dellal Center, located at the heart of the picturesque Neve Tzedek neighborhood, has been the spot for Israeli and international dance performances (as well as the home of one of Israel's most famous troupes, the Batsheva Dance Company) since 1989. A performance at the center and dinner in the restaurants nearby make a great night out.
7. Tel Aviv Museum of Art
Gracing the walls of this museum are Israel's most comprehensive collections of modern, contemporary, and Israeli art. The museum boasts an impressive collection of the old masters, diverse temporary exhibitions, displays of photography, design & architecture, a performance hall, and a beautiful, calming sculpture garden to wander around or relax in. When visiting, don't miss the newest addition to the museum, the Herta and Paul Amir Building, which was designed by professor Preston Scott Cohen. Built around a spiraling, 90-foot high atrium, the Herta and Paul Amir Building is an architectural wonder. The interior space provides a unique setting for the display of contemporary art, a center for architecture, and a gallery.
Tags :
Best Things To Do
Israel
Tel Aviv
travel