Exploring The Finest Coffee Shops In Tel Aviv
Welcome to Tel Aviv, the Middle Eastern capital of cool, where everyone seems to be getting around on two electric wheels, own a dog or both! The city that greets its visitors with delicious hummus, sleepless nights and thought-provoking street art won my heart over in no time. Although it has the reputation to be a party town, and very rightfully so, there is much more to Tel Aviv than a lively bar scene. Here are the finest coffee shops in Tel Aviv you should explore.
Exploring The Finest Coffee Shops In Tel Aviv
1. Cafelix
Cafelix is a beautifully designed cafe with expertly created coffees. From frothy cappuccinos to the steamy double-shot espresso, this spot is a hipster sipster's favorite spot from morning to afternoon. Though the place is swarming with cuddly dogs, there's still space to enjoy the superfast wifi and quality beans. The leader in the ever changing and evolving Tel Aviv coffee scene, Cafelix will fulfill your dire need for that first morning cup and cure your post-work sleepiness with an evening pick-me-up.
2. The Little Prince
The Little Prince is the perfect literature haven for bookworms. Great for olim, it offers a wide selection of books in Hebrew, Russian, French, and Spanish, as well as an entire room of English literature. With many eclectic, peculiar books, The Little Prince is great for those looking to stray from the typical bookstore selection. The prices are affordable, which has earned this shop a loyal customer base. Get comfortable with a cup of coffee or a glass of cold beer while you browse, or curl up in its dreamy atmosphere to read your latest selection.
3. Nehama Vahetzi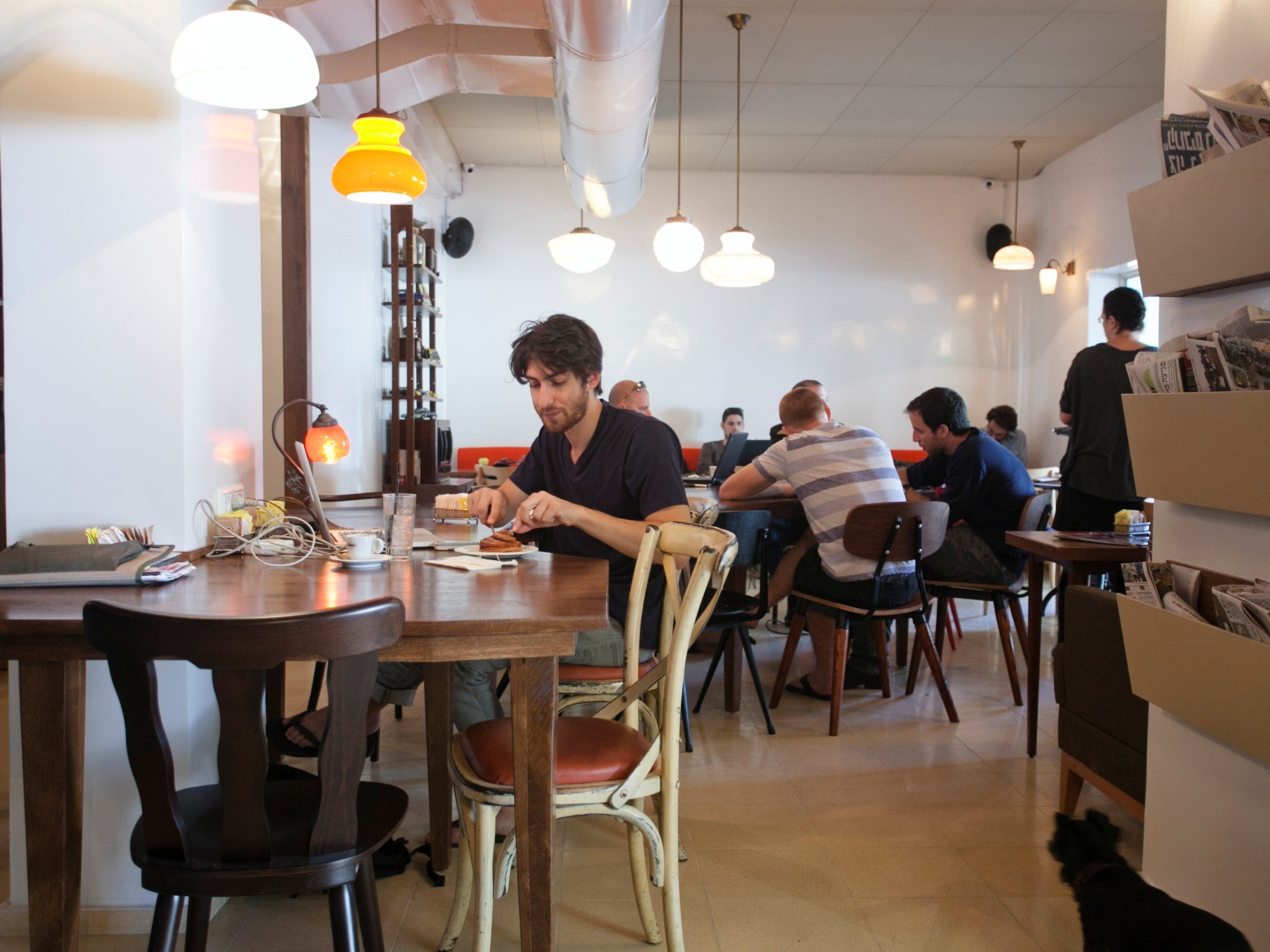 Just steps from the famous Rothschild Blvd, Nehama Vahetzi is a popular pick amongst the locals. With many vegan and vegetarian options, the cafe is always packed with Tel Aviv's cutest and most stylish. While the dishes are not the cheapest, the beer is affordable and the experience is authentic. Plus, the cool vibes are free. With the perfect location, insane beet shakshuka, and breads baked in-house, Nehama Vahetzi is the place to sit, socialize, or just laptop lounge.
4. Café Castel
With incredible coffee and one of the best breakfasts in Tel Aviv, Café Castel is a great way to start your morning. Located in the middle of Ibn Gvirol Street, Café Castel is a pleasant neighborhood espresso bar with great coffee and affordable menu items. Try a delicious sandwich, homemade pastry or a glass of fresh squeezed juice. It's the perfect spot to sit in the sun and people watch, or chat with the friendly staff about what's going on in Tel Aviv.
5. Zorik Café
Tucked away in the beautiful and sunny Kikar Milano is Zorik Café. The super chill and cool café is beloved by young local Tel Avivians, and is especially popular on weekends. Café Zorik welcomes locals and travelers alike to stop in for a cup of coffee and some tasty comfort food, while the homey atmosphere aims to have every guest feeling like part of the family. Their menu contains a selection of yammy stews, omelettes, fresh bread, salads, fresh juices, Israeli breakfasts and more. Café Zorik serves generous portions, so come hungry and enjoy all they have to offer.
6. Coffee Elkalai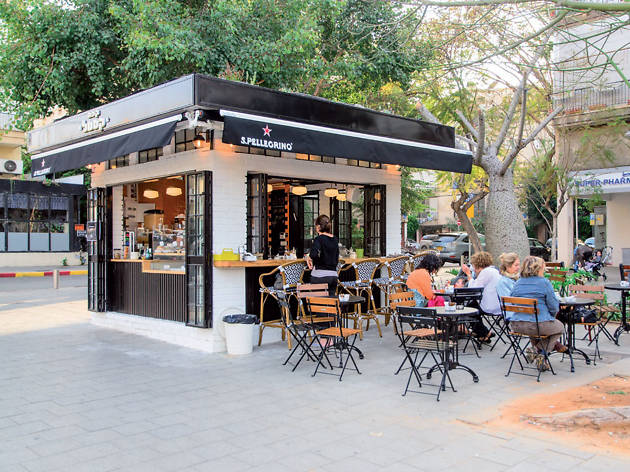 Coffee Elkalai is a neighborhood coffee shop with Paris-inspired seating on the sidewalk out front. This unique spot serves quality coffee, teas and other hot beverages, making it a great place to spend a brisk morning. The menu boasts toasts, sandwiches and croissants, among other tasty treats and baked goods. Coffee Elkalai has an adjacent wine bar and is the perfect place to either start or end your day with a group of friends. Come for the coffee, stay for the wine.
7. Cafe Xoho
Cafe Xoho was established by Xoli Ormit-Durbin, a native of Hong Kong who has created a tight-knit international community within this intimate space. The fun and vibrant café has become a go-to for morning coffees and afternoon grub, serving all-day breakfasts and lunches, including bagels, burritos and sweet pancakes. Its fresh-from-the-oven baked goods, including a variety of cookies, are not to be missed.
8. The Streets
With two locations – on King George and Ibn Gabriol – The Streets is a much-loved spot to grab a coffee, snack or something more substantial at any time of the day or night. Its jam-packed menu offers a variety of breakfasts, lunches and dinners, with many vegan and vegetarian options available too. Make sure to try the ginger and lemon Power Shot for a healthy pick-me-up (best enjoyed with a summer breeze on the outdoor terrace). It's also a haven for digital nomads working from their laptops, so it's always busy.
Tags :
Coffee Shops
drinks
Tel Aviv