If you're planning to visit Austria this year, why not discover some of the most exciting festivals that the country has to offer, from a pop music event held in front of Vienna's Baroque church to one of Europe's finest international film festivals? In this diverse cultural community, there are popular festivals in Austria for everyone when traveling to this country.
Festivals In Austria
Viennale
The long-running Viennale international film festival (since 1960) takes place annually in October. Premiering an incredible range of films, the festival takes place across Vienna's many vintage cinemas, including Gartenbaukino, the planetarium Urania Sternwarte, Metro-Kino, Filmmuseum and Stadtkino. Documentaries, short films and experimental cinema are among the genres that are seen and the festival includes a number of events, such as talks with directors and special galas.
Wiener Festwochen
Established in the 1950s, this six-week festival pays tribute to all things cultural with the opening taking place outside Vienna City Hall. The festival was originally set up with the aim to reshape the city's image after the Second World War, encouraging people to unite through culture, as the website says: 'Wiener Festwochen doesn't aim to be a glossy festival. Rather, it seeks to understand art as a process that enables new solidarities by creating temporary Ground Zeroes, thus becoming a field for experimentation for a future society.'
Mörbisch Operetta Festival
An operetta is a lighter version of an opera, in both its themes and musical style, and this festival pays tribute to it. One of the highlights of this festival is the stunning backdrop of Lake Neusiedl, an area of gorgeous natural beauty. Attracting a diverse crowd of fans, the festival is described by the organisers as a 'limitless cultural enjoyment that whisks visitors away into a magical world full of melodies from operettas and musicals, far from the worries of everyday life.'
Schubertiade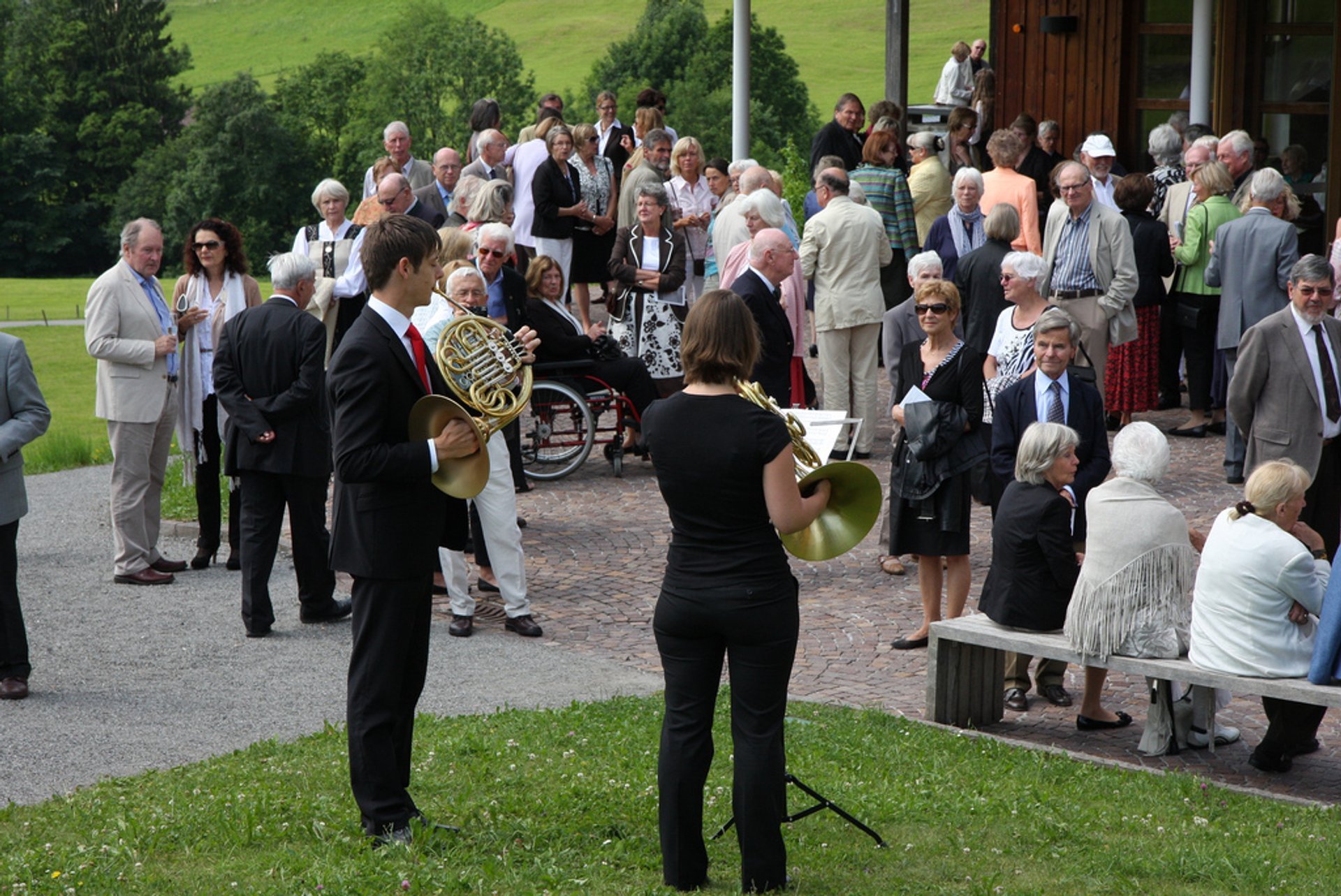 This festival is dedicated to the music of Franz Schubert and is considered to be the most important Schubert music festival in the world. Dating back to 1976, the celebration takes place every year in Hohenems in April and October. A range of performances including orchestral concerts, piano recitals, and chamber concerts are to be enjoyed. The festival prides itself in keeping its venues intimate and small, adding to its popularity.
Glatt & Verkehrt Festival
Loosely translated, the festival name means 'straight & backwards'. Established in 1997, Glatt showcases international artists who use humor and wit in their music. Hosted in the town of Krems, the festival usually holds 15 concerts during a one-month period between June and July. Many of the concerts and performances are free of charge.
Salzburg Festival
July 27th – August 30th, 2011
Salzburg's beautiful Baroque old city center forms the Festival's backdrop, with much to do and see between performances.  The Salzburg Festival offers a diverse program, featuring a nice mix of opera, drama and concerts.  And it's said that only the best and most famous artists from all over the world are invited to Salzburg.  Some even say it's the most important festival in the world!
Musikfestival Grafenegg
This music festival which has only a relatively short history has grown increasingly popular each year since its beginnings in 2007. Taking place on the grounds of the beautiful Grafenegg Castle, in the open-air, the music program includes a wide array of classical music, such a symphonies, chamber music, and recitals. The festival usually is held from late August to early September.
Grafenegg Music Festival
August 19th – September 7th, 2011
Grafenegg Music Festival also offers an open-air stage, set on castle grounds, along with a newly built architecturally stunning Wolkenturm stage and a new Auditorium, since 2008.  This classical music festival features performances from the world's most renowned orchestras, conductors and soloists.  Visitors can also enjoy castle tours, music workshops and much more.  Get there by rail from Vienna, stopping at Wagram-Grafenegg station, just 2km from Grafenegg Music Festival.
Bregenz Festival
With a history over 60 years, the Bregenzer Festspiele is a spectacular, open-air operatic performance that takes place on a lake in the old town of Feldkirch. For four weeks in the summer (July to August), barges are set-up and the surrounding areas become a big outdoor stage. The festival attracts opera lovers from all over the world.
Tags :
Austria
festivals
traditions and customs