Belgium, a culturally rich country, is a part of western Europe and is known for being home to many medieval monuments. It is a small country with several grand festivals and events happening throughout the year. In fact, this diverse country is known for playing host to some of the most vivid and cheerful festivals in the world that lures in people from all around the globe! Anyone who gets a chance to witness these festivals in Belgium will surely be coming back for more in the year that follows. See the many vibrant festivities and celebrations that take place in this small country that shape its culture and give it such pleasing vibes!
Festivals In Belgium
Boombal Festival
Boombal Festival is the most appreciated folk dance festival in Belgium. The traditional folk music, written by the best local songwriters in Belgium, are presented here. There are several stalls in the Boombal Festival that offer some of the best vegetarian dishes from the local cuisine. Folk lovers from across the world come here to witness this incredible presentation of traditional folk music and dance. During the festival, the whole place gets lit up in colorful lights and the people gather around bonfires.
Rock Werchter
Rock Werchter was awarded the Arthur Award in the year 2015 for being the best music festival. This is one of the grandest events in Belgium featuring many talented Belgian musicians showcasing their love towards rock music. It started in the year 1974 and has continued to remain one of the best music festivals in Belgium. Many famous and well-known artists have performed here, including Iggy Pop, U2, Muse, Eurythmics, Ramstein, Florence + The Machine, Red Hot Chilli Peppers and Metallica.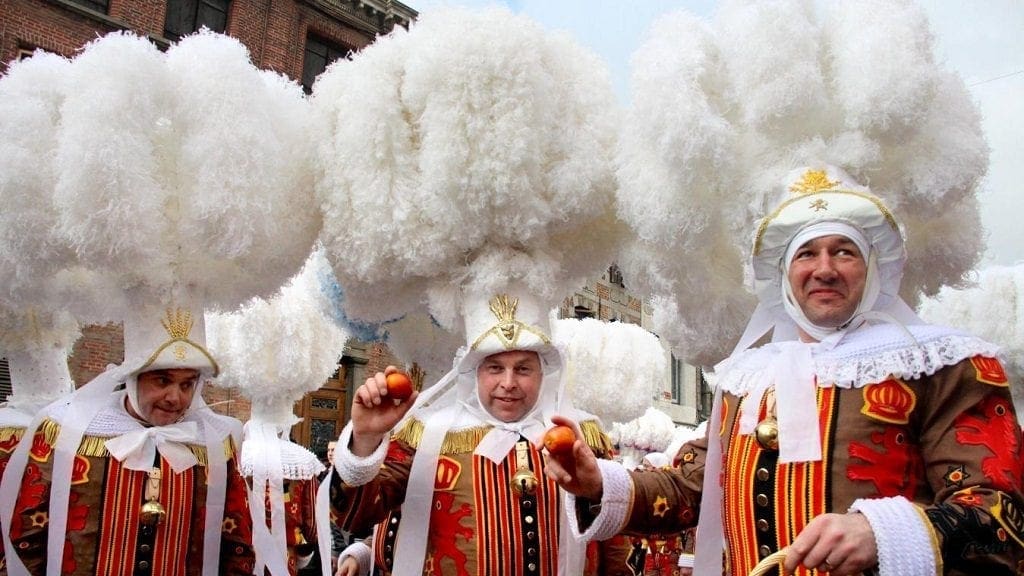 Carnaval De Binche, which started in the 14th century, continues to be the most loved traditional festival in Belgium. This is a three-day long festival which features a confetti spread streets, harlequins, peasants and pierrots who parade along the pathways. The central male figures in this festival throw blood oranges towards the crowd. At the closing ceremony of this event, one can find the sky lit up by fireworks.
Tomorrowland
Tomorrowland Festival in Belgium is the best music and dance festival which is visited by people from every nook and corner or the world. This festival is a must for every electronic music fan. It started in 2005 and has been an annual event since then. Tomorrowland Belgium 2020 will be hosted at a park in Flanders to showcase some of the best musicians and performers from all over the world in a comfortable space. It is normal to find thousands of people dancing and swaying to the melodious tunes played here.
Concours Musical International Reine Elisabeth de Belgique
Early to late May
A world-famous classical music competition. Founded over fifty years ago by Belgium's violin-playing Queen Elisabeth. The categories change annually, rotating piano, voice and violin, and the winners perform live in the Grand-Place in July. Tickets can be difficult to get hold of and can cost as much as €50, but the venues do include the splendid Palais des Beaux Arts and the Conservatoire Royal de Musique.
Jazz Marathon
Three days in May
Hip jazz cats can listen to nonstop groove around the city for three whole days (which change each year – check the website), and although most of the seventy-plus bands are perhaps less familiar names, the quality of the music is usually very high. Entrance fees vary depending on the venue, but you can buy a three-day pass from the tourist office and there are a number of free jazz concerts too.
Brussels Festival of European Film
Eight days in late June
Something of a moveable feast – it's previously been held in April and June – this festival promotes the work of young film directors from the 47 countries of the Council of Europe. It's not one of Europe's better-known film festivals, but the organizers have worked hard to establish a solid reputation and it's a great opportunity to catch up on some of the latest European (and Belgian) films. The festival takes place in the capital's Flagey arts centre, in Ixelles.
Brussels Summer Festival
14th – 18rd August 2020
Every year in August, the Brussels Summer Festival brings together popular Belgian and international artists to give you good music, good vibes and lots of fun! Since it's conception in 2002 as a cultural festival to showcase tourism actors, performances and more, it has turned into a venue for festival-goers all over the world to come together and sway to new music. This 5-day festival is sure to give you all the good vibes, so get your tickets as soon as possible!
Tags :
Belgium
festivals
traditions and customs