With its mountain backdrop and urban beaches, Vancouver has the rightly earned reputation of being one of the most beautiful cities in the world. Downtown Vancouver is superbly situated on a peninsula in the Strait of Georgia, bounded to the south by the delta of the Fraser River and to the north by a deep fiord reaching far inland (Burrard Inlet). Also to the north, gleam the often snow-covered ranges of the Coast Mountains. Keep reading on for the top tourist attractions in Vancouver.
Top Tourist Attractions In Vancouver
Stanley Park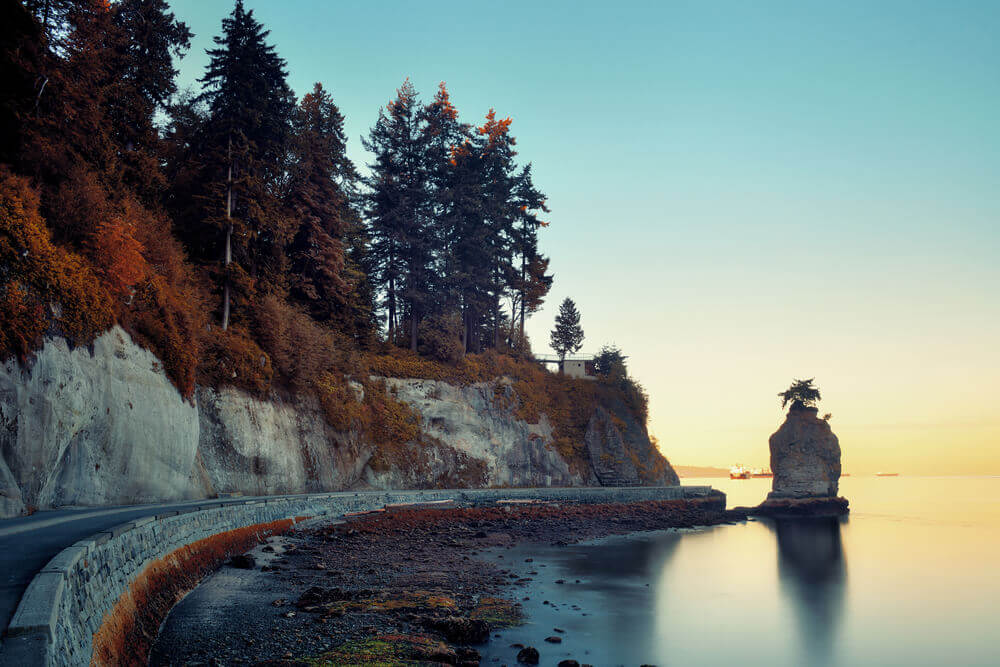 One of the biggest urban parks in North America, Stanley Park is almost entirely surrounded by water. There's plenty to see in and around the park, including its beaches, lagoon and lake with spectacular views from every angle; and its seawall, where you can exercise. Stanley Park is also the world's longest uninterrupted waterfront path, at 28km (17 mi).
Granville Island
Once mainly industrial, Granville Island is now a thriving center of activity with a relaxed and distinctive atmosphere. Artists and retailers have moved into converted warehouses alongside houseboats, theaters, galleries, and restaurants.
The Granville Island Public Market is one of the most popular attractions selling fruit and vegetables, seafood, and a great variety of other specialties as well as ready-to-eat items. Not truly an island, the arts hub is linked to residential areas by one road and footbridges to the south, and to the Downtown peninsula (across False Creek) by ferry.
Robson Street
Just as New York has its Madison Avenue and London has its Knightsbridge, Vancouver has Robson Street, the best shopping district in British Colombia. Named after a provincial premier, Robson Street has been attracting shoppers like honey draws flies since the late 1800s. Robson Street has more than just fashionable shops and upscale boutiques. It also offers art galleries, and casual and fine dining in various ethnic cuisines. Street performers come out in force at night to entertain shoppers or people-watchers who sip coffee at a sidewalk café.
Museum of Anthropology at UBC
The Museum of Anthropology at the University of British Columbia is a must-see for anyone who wants to learn more about native peoples of the world, including British Columbia's Northcoast Indians who are known as First Nations. Founded in 1949, the museum houses 38,000 ethnological items and more than 500,000 archaeological objects. Wonderful examples of huge totem poles, used by Northcoast natives to tell stories, can be found here as well as implements used by all indigenous peoples in their daily lives. Besides being a public museum, the Museum of Anthropology is Canada's largest teaching museum, though it is difficult to imagine anyone studying in this spectacular setting that overlooks the sea and mountains.
Gastown
Gastown is Vancouver's most historic neighborhood, and it's located just next door to the downtown area. Highlights in the area – besides the food and drinks – include the steam clock (one of only a few left in the world), Hotel Europe's Flatiron Building-like exterior and Gassy Jack's statue.
Metropolis at Metrotown
For shopping lovers, a visit to Vancouver isn't complete without checking out the stores in British Columbia's largest mall. Metropolis at Metrotown in Burnaby (in the Greater Vancouver area) is also the third-largest mall in Canada, with more than 400 stores across four floors. It has shops for everyone on every budget: from Old Navy to Michael Kors and Guess.
Grouse Mountain
In both winter and summer, Grouse Mountain offers an unmatched panorama in clear weather. That's especially so in the evenings when the city lights are on.
A gondola operates daily running from street level to the summit, where dining, activities, and wildlife await mountaintop explorers year-round.
When the snow flies, Grouse Mountain is a winter wonderland offering outdoor skating, snowshoeing, skiing, and snowboarding. The ski runs are not particularly difficult, and Grouse Mountain is a fun family outing. It's also a great place to learn how to ski.
Come summer, Grouse Mountain is a hiker's paradise with trails, including the famed Grouse Grind – affectionately called Mother Nature's StairMaster.
Canada Place
Canada Place is a striking landmark on Vancouver's skyline, with fabric-covered roof peaks that resemble sails. The facility itself is colorful with the colors representing the diversity found in Canada. Canada Place was built in 1927 to serve Canadian Pacific Railway and other traders shipping goods by sea across the Pacific Ocean. Today, the multipurpose facility sends passengers on cruises to Alaska. It also is home to the Vancouver World Trade and Convention Center and a major hotel. Remodeled over the years, the waterfront Canada Place served as the Canadian Pavilion during the 1986 World's Fair. This is one of the top tourist attractions in Vancouver you should not miss.
Tags :
Canada
Tourist Attractions
travel
Vancouver