Traditional Foods In Austria
Austria's landscape is adorned with the snow-crowned Alps, lush green pastures in the countryside and of course the iconic cityscape of Vienna, Salzburg and other such stunning cities. Speaking of the Austrian food and its culinary scenario, the country will tempt you with its flavorsome delicacies you would want to gorge on. Authentic Austrian cuisine is marked by rich flavors and dominated by meats and carb-dense foods like pastries and bread. From the fried Schnitzel to the hearty Goulash, there are Austrian food recipes for every meal! This post features traditional foods in Austria that one must try when in this paradise.
Traditional Foods In Austria
1. Viennese Apfelstrudel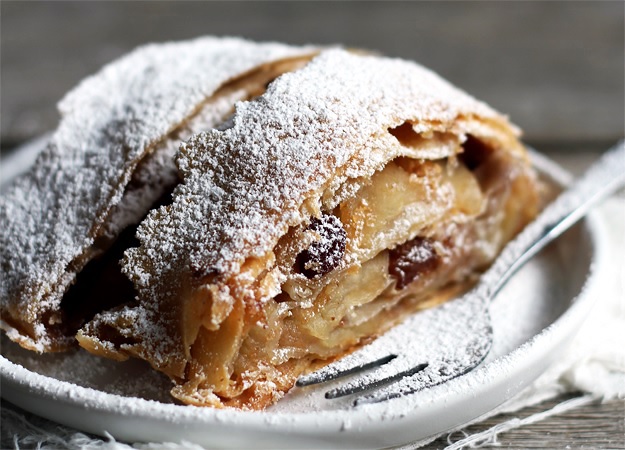 The Germans may argue that the Strudel belongs to them, but Austria has wholeheartedly taken to the sweet crusty Apfelstrudel, which is counted among their national foods. The Apfelstrudel is a flaky pastry that is lined with apple filling and qualifies as vegetarian Austrian food, while the restaurants in Germany also serve a different version. The filling itself is spiced with cinnamon, sugar and added with raisins. The smell of Apfelstrudel right out of the oven can make any foodie go weak in the knees! You can also find it commonly as it's a beloved Austrian street food and is easily available for a bite anytime.
2. Wiener Schnitzel
If there is one dish that is synonymous with Austrian cooking it is the Schnitzel! Known as the Wiener Schnitzel or the Vienna Schnitzel, it is counted among the Austrian national food dishes. It is a yummy fried delight and is served with a side of fried potatoes and sour cream and onions. You can find this dish right from street food stalls to high-end restaurants! Similar to fish and chips, the Schnitzel is often had at casual lunches.
3. Vienna Sausage
The Vienna sausage is bound to feature in your search for authentic Austrian food. Eastern European cuisine is dominated by the use of meats and the sausage is one of the favourite foods of Austrians. This type of sausage is parboiled made of pork and beef and then smoked at low temperatures. It is then used in main dishes or simply fried and served in a hot bun. It is one of the traditional foods in Austria and hence you must try while on your net trip to Austria.
4. Tafelspitz
Tafelspitz is a typical Austrian food that is found as a main course in many restaurants across the country. A classic dish, it is made up of beef boiled in a broth of vegetables and spices. The beef is then served with minced apples and horseradish or sour cream with chives. The hearty meal is filling and has rustic beginnings. The name itself refers to a cut of the beef and will mean different things in a food market and a restaurant!
5. Tiroler Gröstl
The Tiroler Gröstl is comfort food at its best! Among the most common traditional Austrian food in Vienna, it is more common in the Austrian Alps. The rich dish is also simple and is a pan-fried dish of potato, chopped beef or pork with lots of butter and onion. Often topped with a fried egg, it's a must try for someone fancying classic Austrian foods. Generally it is called as Gröstl, while this variant particularly belongs to the ski resort region of Tirol.
6. Kaiserschmarrn
Kaiserschmarrn is literally a meal fit for the kings! The name of the dish is 'Kaiser' meaning King and 'Schmarrn' meaning shred. The dish is basically fluffy shredded pancakes! The sweet dish if served as a dessert or even as a meal on its own. The pancakes are shredded into small pieces and topped with jams, sweet sauces, fruit compotes and caramelized dry fruits. The dish developed in the 19th century has since become a part of traditional Austrian food.
7. Sachertorte
Who doesn't love desserts? Head to any bakery serving traditional Austrian food and try the local dessert Sachertorte which will make you fall in love with Austrian food for sure. Moreover, Austria has a long history of making some of the finest desserts in the world and you shouldn't miss out on the experience of tasting each one of them. Other than Sachertorte, don't forget to try other desserts like Esterhazy-Schnitte, Rehrücken, and Topfentascherl.
Tags :
Austria
cuisine
foods