If you're at all concerned that you're experiencing breathing disturbances or AFib, the first thing you should do is see a doctor. Then, consider buying a Withings ScanWatch. The ScanWatch is the first-ever hybrid smartwatch to be clinically validated to notify users for signs of AFib and overnight breathing disturbances. It has received CE medical certification in Europe for AFib detection (via ECG and PPG sensors) and for SpO2 measurement. (CE clearance for sleep apnea detection is arriving later this year.) It's currently under review by the FDA in the US and is expected to launch with clearance in Q4 2020. Here is the Withings ScanWatch review.
Withings ScanWatch Review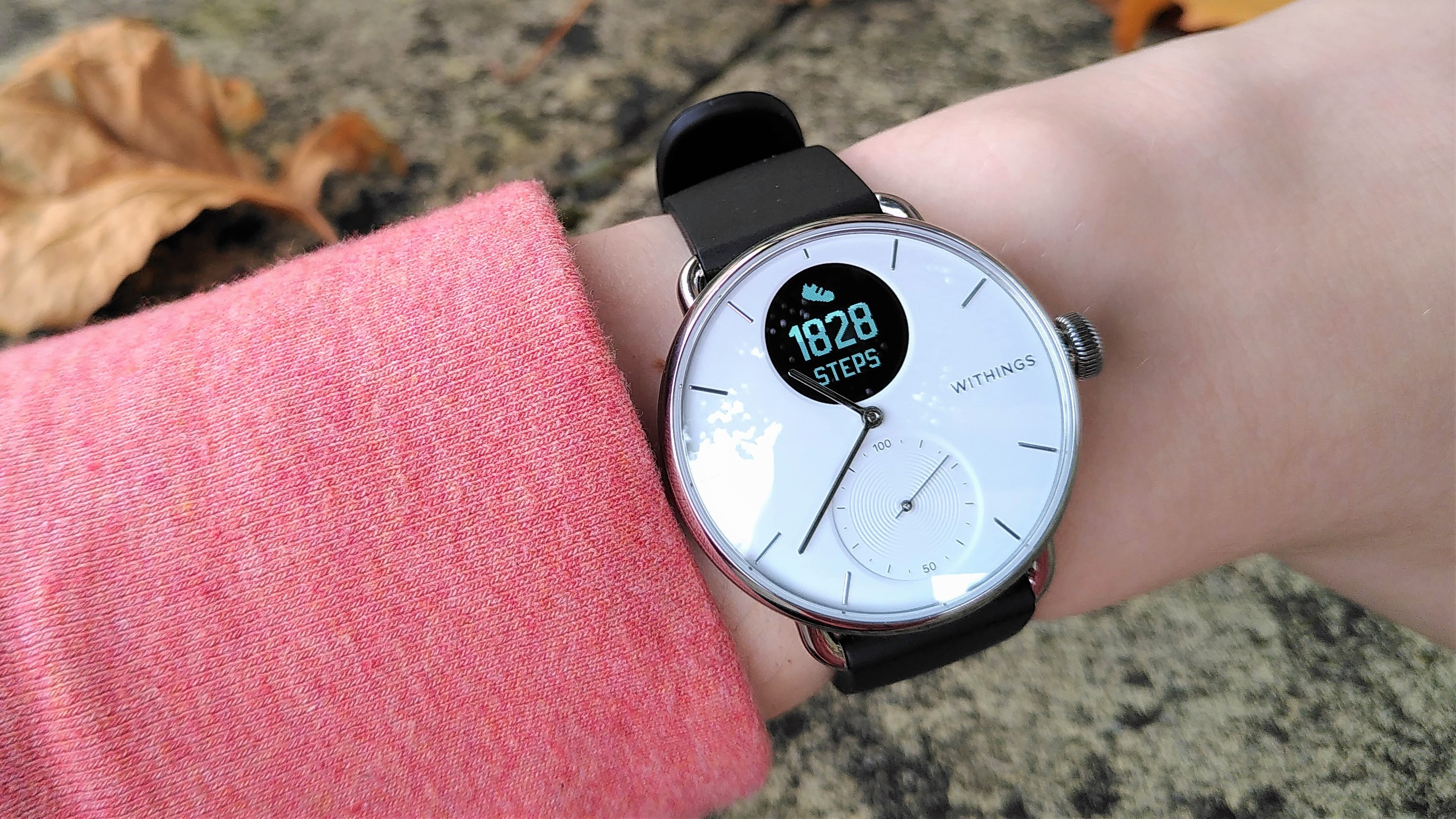 Price and availability
The Withings ScanWatch is available two sizes – 38/42mm case – in either black or white at Withings. Prices from £249.95 / €279.95 (38mm).
Withings states that the ScanWatch "will be available in the United States later this year, following FDA-clearance, for $279 (38mm) and $299 (42 mm) at Withings, Amazon as well as at Best Buy stores".
Design and display
Choice of two sizes
Hybrid analog/digital design
Controlled entirely via digital crown
The Withings ScanWatch is available in two sizes: 38mm and 42mm. The 38mm model, which we tested, not only features a smaller face, but also a slimmer case, narrower band, and overall more delicate design. Both feature a stainless steel case, and a touch sapphire glass lens over the face.
The smaller model is 13.2mm thick, and weighs 58g without the strap. Its larger sibling is marginally chunkier at 13.7mm thick, but tips the scales at a noticeably heavier 83g for the watch alone.
The standard strap is plain matte black silicone, with a metal buckle. You're unlikely to mistake it for leather, but it's smart and wouldn't look out of place with workwear. If you want to switch it to something more stylish, a wide variety of silicone, woven, leather and metal bands are available for an extra fee. Quick-release pins to make it easy to change.
The ScanWatch's most distinctive feature is its analog dial (available in black or white), which is accompanied by a circular LCD display to show menu options and essential health stats.
An analog subdial underneath the screen shows how close you are to achieving your current step goal. We would have preferred to see two small screens instead, allowing you to see a different snippet of information on the lower one if you choose, but we appreciate the nod towards traditional analog watch design, where such a dial might show how long it will be until the watch needs winding.
The ScanWatch is one of the most user-friendly fitness trackers we've tested. There's only one control: a 'digital crown' on the right edge of the case, which you press once to wake the screen, and rotate to move to see your daily stats and various menu options. There's no back button – to return to the previous menu, simply wait a few seconds for the screen to time out, then re-select it.
Holding the crown while tracking an activity will pause the workout (which means you're unlikely to stop it accidentally). Once tracking is paused you can turn the dial to end and save it, or hold it again to resume.
Withings ScanWatch Review – Features
The Withings ScanWatch makes a compelling case as an Apple Watch alternative. Not only does it achieve an extraordinary 30-day battery, but it comes with medical-standard monitoring capability typically only found on Apple's wearable. This is all at a fraction of an Apple Watch cost, and with cross-platform support, so the ScanWatch is suitable for iPhone and Android users.
Although the company has always had a more medical-style focus on its products, in the past, Withings watches have been more closely aligned to fitness trackers than fully-fledged smartwatches. So, as you'd expect, core fitness tracking elements can be found on the ScanWatch, too. Onboard sensors monitor your steps, measure your heart rate, and track your workouts.
Selected exercises include running, cycling, walking, and swimming. Importantly, the watch is water-resistant up to 50m, so you can wear it while working out, going for a swim, or even in the shower. If your workout isn't listed, you can select Other from the menu. There's no onboard GPS, so if you want to track your training location, you'll need to keep your phone with you and connected via Bluetooth.
The ScanWatch attempts to register these activities automatically, so you shouldn't often activate workout-tracking manually. Some important everyday features are often overlooked, so it's useful to note that the ScanWatch also comes with a brief mindfulness exercise, listed as Breathe on screen. Evidently, you can use the watch to tell the time, but there's also the option to set alarms and timers and activate a stopwatch.
As this is a cross-platform wearable, the company has worked hard to ensure feature parity on both operating systems. It is often the case that smartwatches may access certain features on Android devices, but fewer on Apple's iPhones. However, both types of smartphones receive the same features, including notification mirroring. When setting up the ScanWatch, you can opt into this, although you can adjust the apps which can send notifications to your wrist.
Withings ScanWatch Review – Software
The Withings ScanWatch syncs its data to the companion Health Mate app, which is available for Android and iOS. Similarly, notification mirroring works on both platforms. When you first set up your ScanWatch using the Health Mate app, you'll be asked to enable access to your phone's notifications. If you choose not to opt-in, you can always do so at a later time. Health Mate is also compatible with over 100 other services, including Apple Health, Google Fit, MyFitnessPal, IFTTT, and even Fitbit.
In most cases, this is a two-way sync, so your data stays consistent between platforms. As native apps, Google Fit and Apple Health are the most common integrations. Both services act as data consolidation tools, enabling you to see all information at a glance. Having previously used Health Mate with an Android device and now with an iPhone, both integrations work seamlessly, as expected.
One incredibly minor bug encountered during the review period was a persistent notification within the Health Mate app reminding me to "Continue discovering ScanWatch" despite having completed this task during the initial setup and several times subsequently. Sometimes the sync between Health Mate and Apple Health would get stuck or would inconsistently update data. Patience tended to be key here, but, notably, I didn't have this issue before attaching the ScanWatch to my account.
Those small issues aside, you can view all of your ScanWatch's data within the app. The most recent recordings are shown on the initial screen, and tapping the category allows you to analyze the data over time. If you aren't sure where to start with all of this information, the Health Mate app also has an assistant chatbot that will offer personalized insights and recommendations.
Tags :
Review
technology
Withings ScanWatch